Bohol Bee Farm's Restaurant: The Buzzz Cafe
Before I left Bohol for my ocular inspection in the last week of March, I went to the Buzzz Cafe at the Bohol Bee Farm
in Dauis, Panglao Island, Bohol, Philippines
. Since I did not have enough time, I only went there to have lunch.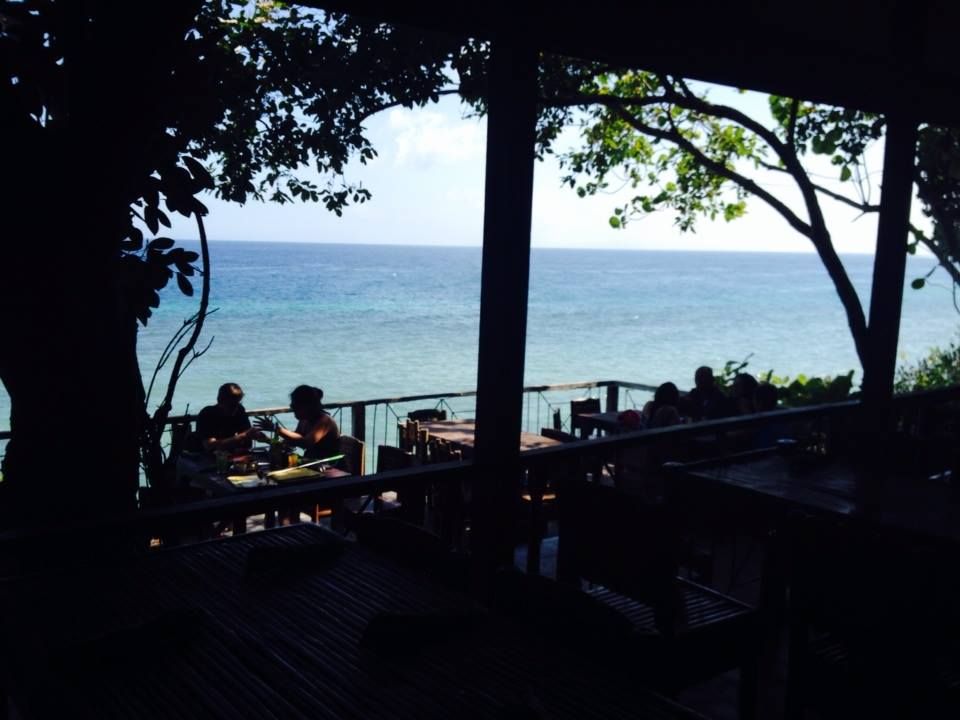 My view while having lunch at The Buzzz Cafe in Dauis, Bohol, Philippines
Complimentary Items
Organic Garden Salad with Indigenous Flower Petals
Each entree that I ordered came along with a complimentary side dish. You can choose to have either the organic garden salad with indigenous flower petals, cassava fresh lumpia, or fruits. Mine came with 2 side dishes of organic garden salad. On hindsight, I should have had cassava fresh lumpia for the other side dish.
Squash Bread with Pesto and Mango Spread
Squash bread with Pesto and Mango Spread was served to me. It also came with dried cabcab (dried cassava paste) with green tomato, Parmesan cheese, and vinaigrette dressing. Best thing is I did not have to pay for these items, it was on the house.
Entrees: Prawns and Grilled Fish
For my main dish, I ordered grilled prawns and grilled fish tangigue. Lo, to my surprise, the grilled prawns are among the biggest prawns I've seen my whole life. The grilled fish was okay but I'm guessing it wasn't as fresh as I would have wanted it to be. Bohol Bee Farm also serves pasta and pizza with local flavors.
Drinks: Bee Fi and Honeyed Fruit Veggie
I ordered two drinks to go with my meal: Bee Fi and Honeyed Fruit Veggie. Bee Fi Shake is a concoction of camote, pineapple, and mango. It's quite a filling drink. While Honeyed Fruit Veggie Shake is a cocktail of nectars and juices from different fruits and veggies such as cucumber and carrots. Other Bohol Bee Farm Specialty Drinks are lemonade fruit drink, mango banana shake, peanut butter mango shake, gingered mango shake, bee squashed shake (squash+mango+ginger), and go banana shake (banana+tsokolate).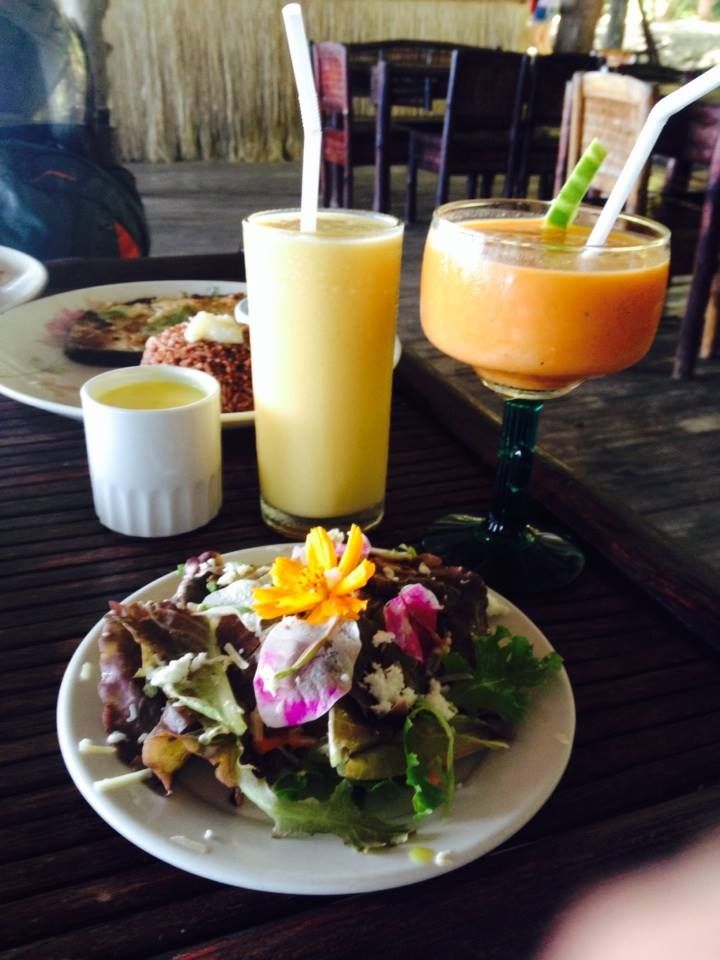 Floral salad, mango banana shake, honeyed fruit veggie, and bee-fi shake at The Buzzz Cafe in Dauis, Bohol, Philippines
There's also a lot of local flavors and unique creations for their coffee and tea selections. They serve Kape Mais(corn coffee) at PHP 60 per cup. Their Bee Farm Frost Blends sell at PHP 150 per glass with the following flavors: bee caramel frost, honey cinnamon frost, peanut butter frost, and salabat (ginger) frost. Their tea flavors are guyabano (soursop), malunggay (horseradish), lemongrass, guava, mango, herb, and ginger.
Location & Contacts