On 12 March 2016, I drove up to the northern part of Cebu province in the Central Visayas region of the Philippines. After several years, I will be staying again at the Virgin Beach Resort in Daanbantayan town, the northernmost of all Cebu municipalities. A few years back, I stayed at the resort and met Ron, an American who co-owns the resort with his Filipina wife Fe. This time around, Ron was not at the resort and I was told he had to tend to family and his businesses in California. Back in 2007, I did not blog about VBR and this time I am writing about it as it will somehow add another listing to the directory of Cebu hotels and resorts at the Wonderful Cebu blog and the Around the Philippines blog.
Getting To Virgin Beach Resort
To get to Virgin Beach Resort from Cebu City, one can drive north through either the main national highway or the North Coastal Road (exit at Lilo-an town) to get to Bogo. There's a junction in Bogo where a road sign points the way to San Remigio/Hagnaya/Medellin. Follow that road and turn right at another junction where the road sign points the way to Medellin. Upon arriving at Daanbantayan town, take a right into the Maya-Bagay road and follow it until you see a directional sign leading the way to Virgin Beach Resort. Follow that road once again. There's a fork in that road with the left path leading to sitio Suba and the right path leading to Virgin Beach Resort.
When taking a bus, hop on a Maya bound bus (via Bagay) from the Cebu North Bus Terminal and disembark where you see the Virgin Beach Resort directional sign in Daanbantayan. Inform the VBR staff prior to your arrival and they will gladly pick you up from the main road. Buses from the city stop at either the Bastap or the Carmen Hillside Restaurant. Both stops are in Carmen town.
Rooms
The cheapest accommodations at Virgin Beach Resort is either tent camping by the sea or at the Barkada Lodge. Both costs only PhP 300 per person. To answer the call of nature or to take a shower, guests who availed of these options will need to use the common toilet and bath at the Orchid Hotel building. Only two (2) tents are currently available for rent at Virgin Beach Resort.
Within the Orchid Hotel building are ten (10) superior rooms which can accommodate 1-2 persons. Regular cost is PhP 2,000 a night. But they are currently running a promotion where one can have the room at PhP 1,000 per night if booked through Agoda.
There are also six (6) small deluxe duplex cottages and six (6) large deluxe duplex cottages. Regular rate for the small de luxe cottage is PhP 2,500 a night for 1-2 persons and PhP 3,000 for the large de luxe cottage good for up to four (4) persons. Bothe are equipped with a kitchenette.
Kitchenette at a de luxe room in Virgin Beach Resort at Daanbantayan, Cebu, Philippines
There are also two (2) family rooms available which can accommodate up to eight (8) persons each. It retails for PhP 4,000 a night.
All accommodation types have complimentary breakfast at the Orchid Bar and Restaurant which consists of French toast or pancakes with juice or coffee. Check-in and check-out time is 12 noon. Early check-in and check-out is charged PhP 300 either way.
Orchid Bar and Restaurant
For guests' food and beverage needs, the Orchid Bar and Restaurant is located on the main hotel building where the superior rooms are. Breakfast items available on the menu are toasted bread, omelets, pancakes, French toast, ham, bacon, sausage, corned beef, dried fish.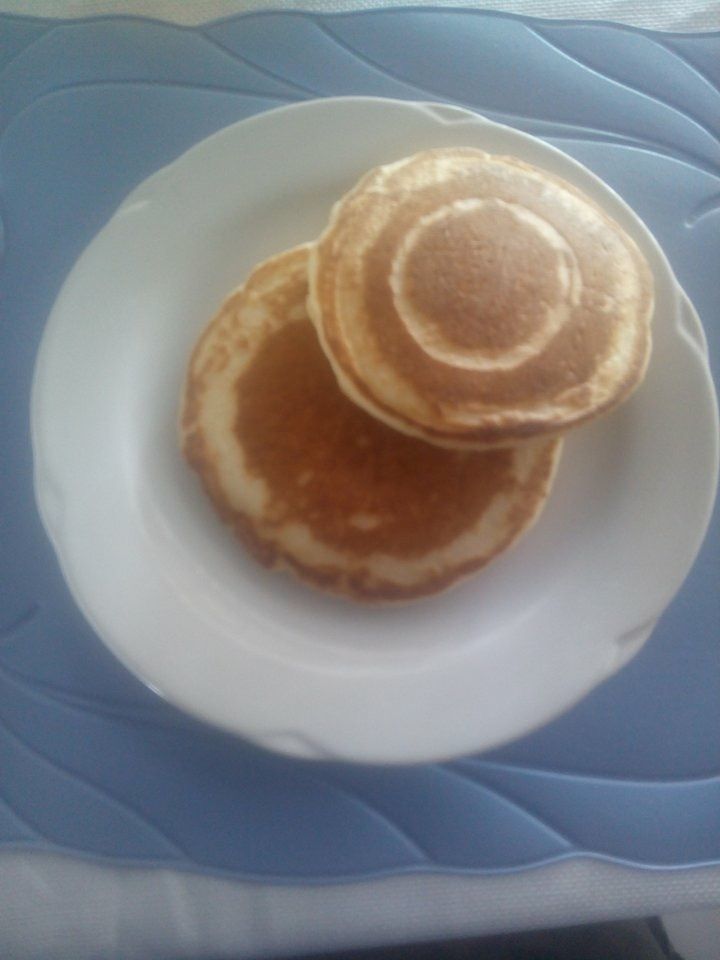 Pancakes at Orchid Bar and Restaurant in Virgin Beach Resort at Daanbantayan, Cebu, Philippines
Other menu items available are sandwiches, soups, salads, vegetable dishes, rice, potatoes, ice cream, halo halo, mango shake, fruit salad, buko salad, spaghetti, palabok, pancit canton, pancit bihon, fish or shrimp, pork or chicken barbecue, pork or chicken adobo, pork or chicken afritada, beef steak, fried chicken, calamari, and beverages.
During our stay, we were buzzed with a pitcher of rhum cola, ate fried chicken for dinner, dried fish for both breakfast and lunch, and some pancakes for snack.
The Orchid Bar and Restaurant at Virgin Beach Resort in Daanbantayan, Cebu, Philippines
To ensure the quality preparation of orders, it is recommended that guests place an order way ahead. Some items may need to be ordered at least a day ahead and some orders may require special preparation.
Facilities and Amenities
Facilities at Virgin Beach Resort include a swimming pool, a function room, a basketball court, cottages, a wide parking area, and some open spaces. The swimming pool has a maximum depth of only four (4) feet.
The deep end of the pool at Virgin Beach Resort in Daanbantayan, Cebu, Philippines
The function hall can accommodate up to 200 persons. Cost to rent the facility is PhP 1,000 for four (4) hours.
Function hall at Virgin Beach Resort in Daanbantayan, Cebu, Philippines
To keep away from boredom, lots of activities are available to do at Virgin Beach Resort. VBR has a good collection of books and movie DVD's. There's a billiard table, board games, puzzles, and sports equipment. Nat enjoyed scanning through the books and we watched "The Men Who Stare at Goats" on DVD.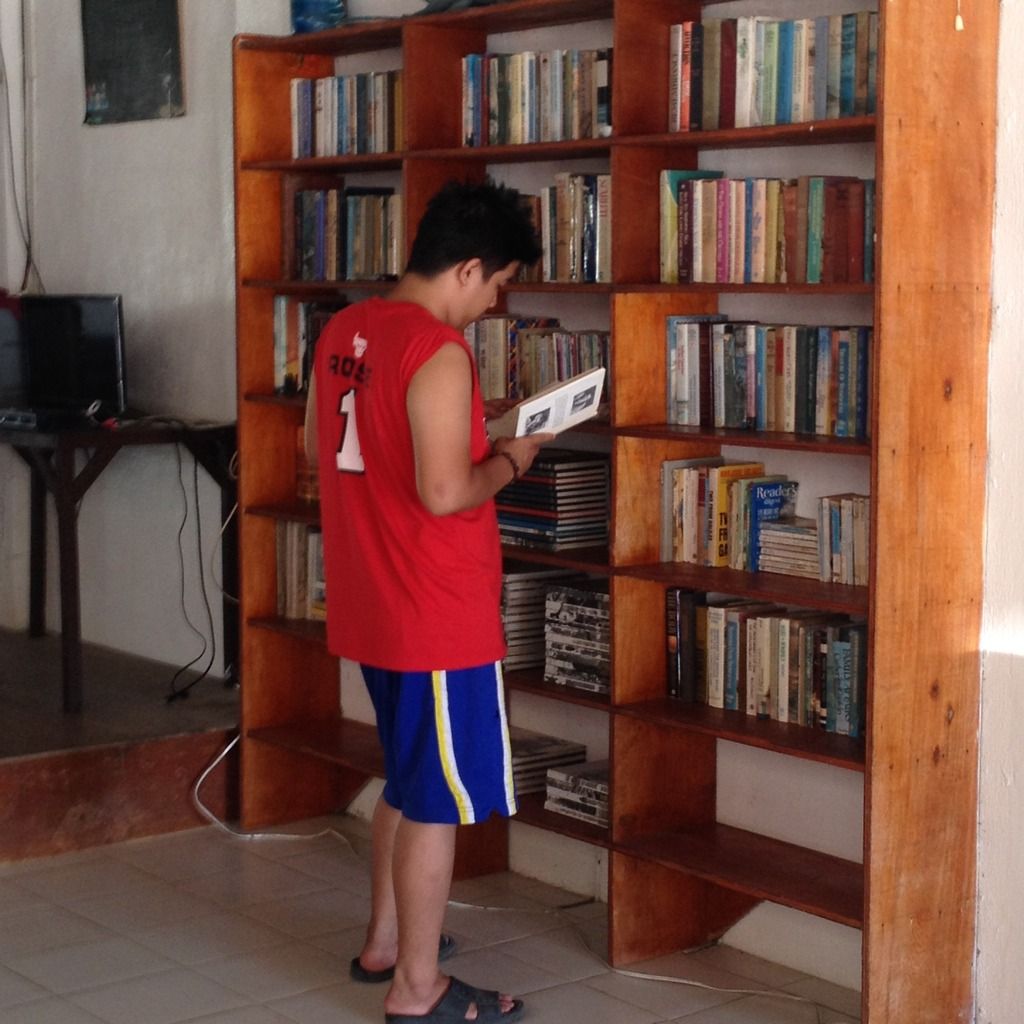 Nat checking the book collection at Virgin Beach Resort in Daanbantayan, Cebu, Philippines
Available sports equipment are basketballs, volleyballs, badminton racquets and shuttlecocks, and bicycles.
Location and Contact Information
Street Address: Sitio Suba, barangay Malbago, Daanbantayan town, Cebu, Philippines.
Website: www.virginbeachresortcebu.com
Telephone Number: 032 354 8661
Mobile Numbers: 0915 455 6990 (Globe) | 0915 383 8408 (Globe)
E-mail Address: virginbeachresortcebu@yahoo.com
Facebook Page: https://www.facebook.com/VirginBeachResort